Our Services
Serving Fairfax County
Lead by Example Tae Kwon Do martial arts academy in Fairfax, VA encompasses education, training, physical and mental well-being, and so much more. Discover outstanding techniques to achieve your personal goals, release a little energy, or simply experience the amazing art of tae kwon do. For more information about our facility, please call us today at 703-273-1100. We offer the following services at our martial arts academy:

* Tae Kwon Do Classes and Training
* Martial Arts
* Self Defense
* Mixed Martial Arts
* Kick Boxing
* Cardio
* Fitness
* Competitive Sparring
* Free Style Sparring
* Character Building Skills
* Self Defense Classes for Children
* Women's Self Defense
* Yoga
* Tai Chi
* Comfortable Waiting Area
* Birthday Parties
* School Events
* Parent's Night Out
* Summer Camps
* Free Trials
About Us
Martial Arts Academy Fairfax VA
Lead by Example Tae Kwon Do is our professional martial arts academy offering a variety of lessons and training, from the beginner martial arts student to the advanced master instructor. Our goal is to increase the physical and mental strength of each student, while maintaining a fun and exciting atmosphere.

Our martial arts academy offers a positive environment, focused around character building, self-esteem, self-defense training, personal fitness and well-being, as well as freestyle and competitive sparring modalities. Our martial arts academy employs highly trained instructors who will properly instruct and guide all of our students. We provide heavy bags, body shields, hand targets and split stretching machines for students to work with, as well as stretch rail for warming up and balance training.

To achieve greatness, it is believed that we must always strive to improve our personal well-being, both physically and mentally. With the professional team at our martial arts academy, we assist children and adults in achieving their personal goals in a fun, exciting, and welcoming environment. To tour our martial arts academy in Fairfax, VA, please contact Lead by Example Tae Kwon Do.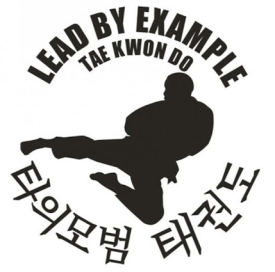 Martial Arts Academy Fairfax VA
---
Payment Methods
Master Card, VISA, American Express, Discover, Check, Cash, Paypal